You're in control. Work full-time, or as often as you would like. Choose the jobs that you enjoy doing.
Communicate with customers on our platform. Reply and send messages or talk by phone as well.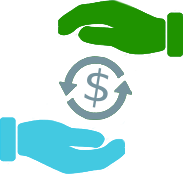 Payments are made through the platform. We will send the funds directly to your bank.
How Zoom Errands Works
Zoom Errands connects people in their local community who need help with a variety of errands and household jobs with providers who are able to provide assistance. When customers post jobs on the platform, providers can browse jobs in their area that match their job preferences. You can accept the fee the customer is willing to pay, or make your own offer for job. Be the hero for that customer and help them out. and get paid for your work.
Doing great work helps build your profile reviews and there is a tipping option as well. Keeping customers happy is a win-win!
Sign Up
Download the app or sign up online and Create your Zoom Errands provider account.
Add Profile
Complete the 4 step registration process and upload your photo and ID.
Registration Fee
Open registration period no fee!! Pay the one-time $18 registration fee to cover platform enrollment costs.
Time to Start
Once everything is completed and background check cleared. Start finding jobs.
Zoom Errands gives me the opportunity to work around my town for really great customers, and with the ability to make my own schedule, I can pursue my life's other passions as well.
Frequently Asked Questions
Get Started